Once on our Slack channel, we talked about marketing education. We're a global team, so I thought answers would differ a lot among us.
But it wasn't the case.
Most of us have learned digital marketing through online content such as blogs, Youtube tutorials, and years of documentation for troubleshooting.
Maybe the PitchGround team is an isolated case; most marketers have formal education, right?
No.
Rand Fishkin, from SparkToro, recently surveyed 734 marketing professionals, many of them from highly recognized companies, where he asked about the essential skills marketers need nowadays and how they learn them.
40,57% of marketers are self-taught or their employer-provided training; 25% of all respondents had formal education.
They were also asked about the activities that contributed the most for them to get hired.
Reading and watching free or paid content ranked first.
As we know blogs, Youtube channels, and other content are critical for developing your marketing career, I bundled some of the best sources our team at PitchGround uses to learn about digital marketing.
Grow and Convert
This blog might be my favorite one about how to think of marketing and content.
Their content is practical, insightful, and pretty smart. You can get specific ideas for improving your content marketing efforts.
For instance, they talk about balancing content promotion through paid ads and SEO in this article: Content Distribution Strategy: Why We're Doubling Down on Paid Promotion and SEO
I like that content comes from their direct experience with their iconic customers so that they can relate pretty punctual ideas.
They're not trying to sell either a specific tactic or a hyped formula. They prevent companies from doing or not some tactics or challenge their thinking, like in this article, where they mention when content marketing doesn't work for early-stage companies.
Measure School
Measure school is the go-to Youtube Channel when it comes to digital analytics.
If you want to learn about installing scripts, reporting, Tag Manager, setting up e-commerce, event tracking, and more, their explanation and video tutorials are quite useful.
This is one of my favorite tutorials:
PS: we wrote a blog post explaining how to set up button clicks event tracking on Tag Manager.
Whiteboard Friday
If you want to learn to think of SEO and content marketing, WhiteBoard Friday—a Youtube series with over a decade online—is one of my first suggestions.
Rand Fishkin, the former CEO at Moz, is the primary host. He outlines marketing ideas in a pretty practical and empathetic way.
Here's a great example you may follow.
Conversion XL
CXL is excellent for technical aspects of digital analytics, A/B testing, optimization, and growth, but also strategical thinking.
Most of the blog posts I read from them give me insights that I always consider in my decision making.
Here are some of them:
Intercom
While I hear many comments about Intercom becoming too expensive, it's also the primary reference of a successful SaaS business.
While their growth might be product-led, their content has positioned them a must for SaaS marketers.
While they have a podcast, blog, video tutorials, and many more content formats, the best piece of content from them is their book Intercom on Marketing, a pretty actionable guide for startups figuring out marketing.
Digital Marketer
What could be more challenging that selling digital marketing education for digital marketers?
Expectations are the highest and content should be best-in-class.
But Digital Marketer content is at the height of this challenge.
I'm constantly thinking how they can bump so much content; they have a stablished blog post, podcast, Youtube channel, and they are one of the few good examples I can relate about B2B social media.
Ahrefs
Ahrefs has become one of the top SEO software out there, along with SemRush and Moz.

While they have a blog, Youtube tutorials, and even a great free blogging course, their latest test is behind the scenes content showing what they do at marketing in a new series called SaaS marketing blog.
Here are some examples:
Buffer
Buffer is one of the first marketing resources I followed.
They take blogging seriously—most of their blog posts are long and pretty detailed. It's no wonder why they rank on Google so well.
My favorite piece of content from them is about the T-Shaped marketer concept, which represents the knowledge and skills a marketer should develop.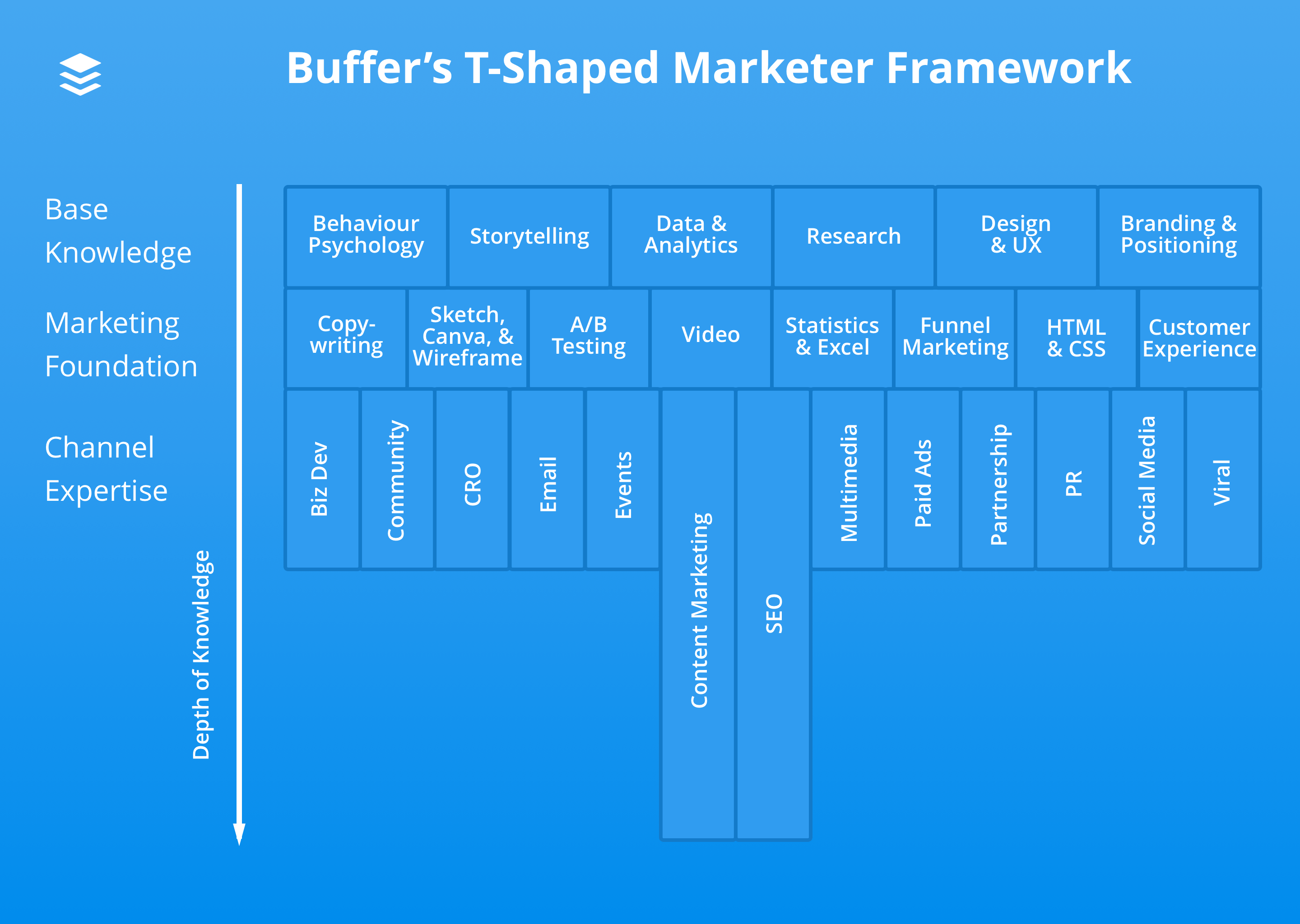 This framework suggests that marketers should be focused on specific skills and have general knowledge in other disciplines.
Sparktoro
Sparktoro's blog is an excellent representation of authenticity.
Curiously, the audience intelligence tool company, was founded by Rand Fishkin, the former CEO OF Moz. While Rand is a life-long SEO practitioner, his view on SEO and Google has changed radically.
Some of his latest posts are direct attacks to Google's practices and decisions that turn to be harmful to those in the Search Engine Optimization field.
He was recently featured on a Bloomberg press release about how Google has made it harder for websites to leverage SEO to gain traffic.
Along with criticism, Rand shares nice insights on how to think of marketing correctly, without over-complexing it.
These are some of their blog posts I can recall:
Growth Hackers is not a blog but a forum where founders and marketers share their best pieces of content that others upvote, making it a great source of curated marketing content.
Want to keep learning?
At Pitch Ground, we are committed to help you grow. That's why we are creating and publishing free tools and content to help you thrive.
Here are some of our latest posts: